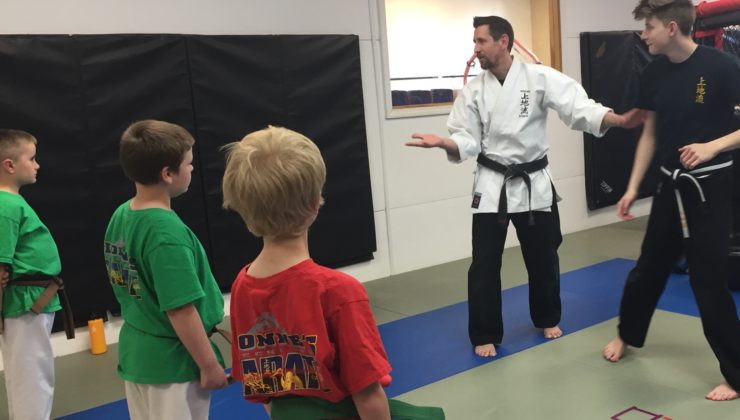 Special Martial Arts Programs
Junior Black Belt Program
Was established to acknowledge and reward young students for their perseverance and dedication to the ideal of Uechi Karate. The minimum time requirement for junior black belts is four years practice.
The students are tested on the first five kata, kyu, and dan kumite, hojo undo, questions relating to martial arts history and tradition and free style sparring. The student must also have a letter of recommendation from his or her school teacher, and or principal.
The junior black belt program established by the Uechi Ryu Butokukai is the first of its kind in the history of Uechi karate and has the full endorsement of the Uechi family in Okinawa. Currently hundreds of young students are benefiting in life through their involvement and study of Uechi karate. Enhancement of both social and academic skills are but two of the many benefits enjoyed by the young students studying in the junior black belt program. Each black belt test culminates with a training session or special event to celebrate student's success. Family members are encouraged to share in this special moment of black belt enhancement.
S.T.O.R.M.
S.T.O.R.M. stands for Special Team of Role Models . It is a group of excellent young people who take time to assist the junior ranking students with their training. This leadership program has many benefits.
Benefits of Being a Member of STORM
Benefits of teaching – in order to truly understand the Martial Arts, one must teach. Teaching has several benefits:
It will encourage the instructor to stay up on old curriculum. Repetition of old material really allows mastery of movement.
Upon explaining the material, clearer distinctions of each movement develop. Therefore, the instructor will get a better understanding of what they are doing and confidence will rise.
A good instructor doesn't let any mood swings interfere with performance. They always puts their best foot forward. This helps to develop mastery of emotion, and the ability to change one's attitude at will.
There is no better feeling than that of giving to others, and putting to use what one has learned in a positive way.
Star in the Martial Arts
Star is a character education program developed by the Jefferson Center for Character Education, located in Pasadena, California. The Jefferson Center is a non-profit, non-sectarian organization founded in 1963 with the express purpose of teaching character education in both public and private schools. The Jefferson Center developed the S.T.A.R. program, currently used by over five thousand schools and fifty thousand classrooms across the country, and it has reached nearly two million students. The program S.T.A.R. in the Martial Arts has become an award winning addition to the curriculum of over six hundred martial arts schools nation wide, with more dojos implementing the program every year.
S.T.A.R. Model:
Stop before you act.
Think about the consequences of your actions/reactions.
Act responsible and let your conscience be your guide.
Review your actions, reactions and learn from them.
Alternate S.T.A.R. Model:
This alternative definition is emphasized mostly with older kids and teens.
Success
Through
Accepting
Responsibility
Students are encouraged to participate in each month's star theme and activity. At the start of a month, students may take a star sheet from the karate bulletin board and work on the theme and activity throughout the month.
The last week of the month students may return their completed star sheet with a parent's signature to receive a star pin of accomplishment and patch of recognition for their uniform.
Parents are encouraged to sign the star sheet if and only if the student has actually met all the requirements on the sheet.